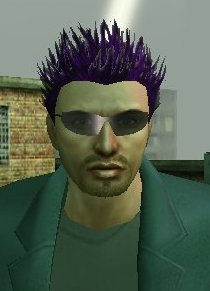 Blue Pill Name: Francis Conner
Personality: Detached Spectator
Liberated Since: March 2, 2005
Reborn: March 19, 2005
Faction:
Crew:
Alignment: Merovingian
Biography:
Often the search for knowledge and the search for God are considered mutually exclusive, but not by Genes1s. Long fascinated by technology and constantly thirsting for knowledge, Genes1s has spent much of his life trying to find a balance between religion and science and technology. He has spent many sleepless nights in bulletin boards, chat rooms, and other corners of the Internet and its predecessors investigating how the technology counter-culture relates with God. Despite his high moral standards, he is not a stranger to the dark side of technology, believing that sometimes questionable means can achieve noble ends. It was when these questionable means began creeping into his life outside of the computer culture that he became aware of the Matrix. His awareness of the Matrix has not deterred his faith in God. He now ponders whether even the great Oracle truly knows how deep the rabbit hole goes.
Self Actualization has been used to describe the many gifted individuals that have become aware of the Matrix without a guide. These people generally become aware of the Matrix by pushing their body to its physical limits and then beyond. Although Genes1s was not formally tracked down and guided from the Matrix, he would not say that he was self-actualized. Rather he would tell you that he was divinely made aware of the reality of the Matrix.
Do not misconstrue Genes1s's service to the Merovingian as an idolic search for information, but rather a necessary evil. When his sister's husband was killed by a program who had been sent to kill Genes1s (it is still unclear whether this program was an agent or and exile) he revealed the truth of the Matrix to her and arranged for her to be freed. The two now use their possition among the ranks of the Merovingian in their quest to find the program who mistakenly killed Lillyth's husband.
After Genes1s witnessed the catastrophic cleansing of the Matrix on March 15, 2005 he began negotiating with the Machines to allow him to be recycled into the new Matrix. The Machines have agreed to allow him to re-enter the Matrix from the Proxy server, provided he surrenders all abilities and $Information that he has previously earned and begin again as a new Red Pill. Sadly, Lillyth was not so luck and did not survive the cleansing of the Matrix. Genes1s holds the machines directly responsible for her death.